Don't just hope for a better life – vote for one - Vote for YJ Draiman as Mayor of Los Angeles on March 7, 2017

Vote for YJ Draiman for Mayor of Los Angeles 2017 - Check Ballot #33 on March 7, 2017

Getting Candid with YJ Draiman Full video 020117
https://www.youtube.com/watch?v=mdFVNIoVn2o&feature=youtu.be

"I dream of a world where the truth is what shapes people's politics, rather than politics shaping what people think is true."

YJ Draiman for Mayor of Los Angeles 2017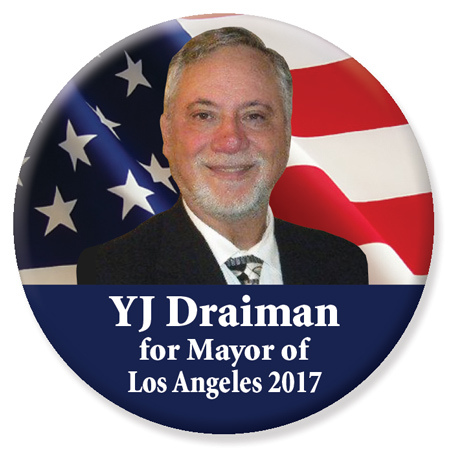 http://votersedge.org/ca/en/ballot/election/area/48/contests/contest/16043/candidate/136669?&election_authority_id=19

I, YJ Draiman, Candidate for mayor of the City of Los Angeles, propose a joint effort to fix our city and re-establish Los Angeles as one of the most vibrant, productive and progressive cities in America.


"Lead by example", leadership starts the pattern and the rest will follow.




Almighty G-d, You have given us this good land for our heritage. We humbly ask You that we may always prove ourselves a people mindful of Your favor and glad to do Your will. Bless our land with honorable endeavor, sound learning and pure manners. Save us from violence, discord, and confusion, from pride and arrogance, and from every evil way. Defend our liberties and fashion into one united people the multitude brought here out of many nations and tongues. Endow with the Spirit of wisdom those to whom in Your Name we entrust authority of government, that there may be justice and peace at home, and that through obedience to Your law we may show forth Your praise among the nations on earth. In time of prosperity fill our hearts with thankfulness, and in the day of trouble do not allow our trust in You to fail. Amen.


"We have flown the air like birds and swum the sea like fishes, but have yet to learn the simple act of walking the earth like brothers"

Copyright © YJ Draiman for Mayor of Los Angeles. All Rights Reserved.

ABOUT


My Values
"Let us not seek the Political Party's answer, but the right answer."
"The ultimate measure of a man is not where he stands in moments of comfort and convenience, but where he stands at ti
mes of challenge and controversy."


YJ Draiman for Mayor of Los Angeles 2017